Testimonials
Excellent from start to finish. The craftsmanship is top notch. Our installer Josh was excellent in knowledge, super polite, paid attention to detail, overall excellent in his craft and workmanship. The office was great to work with as well. Would highly recommend.
Harley Montelongo, December 2021
Excellent service from the sales through the install. Great people all around. Highly recommend them.
Steve Tolle, December 2021
Great experience with a very professional outfit. We shopped around for our blinds, and found All About Blinds & Shutters to be the most knowledgeable and capable installer in the Jacksonville area. Price was very reasonable, as well.
Great customer service from first visit with Kevin to measure windows, the office staff that kept us informed during the process, to the installation crew that installed our new Bahama shutters and finally a follow up visit from Kevin. Their price breast the competition as well.
Larry DeGoey November 2021
One word comes to mind - "Superior" for service and product.
Donna Starratt August 2021
My experience with Kevin who came out and measured, Nick who installed the blinds and Holly who set up the appointments and followed up afterwards has been outstanding. A very professional organization with an excellent product. If you are in need of plantation shutters. I highly recommend All About Blinds.
Great value and excellent product. The process from measurement of windows to installation was seamless within my timeframe. Highly recommend All About Blinds & Shutters if you want a quality product with great service.
I recently needed repair of a blind installed in 1996. Imagine my surprise when there was no charge! I had the entire house done by All About Blinds and couldn't be more satisfied with their product. Just finished a bathroom remodel and needed touch-up paint. No problem! Plus great staff always professional.
What a great experience. This was our second purchase/installation and couldn't have been better. Sasa was punctual, personable, and completed the task effortlessly. We plan on requesting and recommending his service to all of our family and friends. Our sales associate also went above and beyond during our current climate. Our entire home looks wonderful as a result of their efforts. Quite affordable as well. We'll be back!
Today we had our installation of our sun shades and shutters. As we have always found, as return customers, the quality, appearance of your fine products is first class. Of note to our great experience was our installation. Ricky is certainly an excellent ambassador of your business. He arrived on time, provided a first-class job of installing our products, was very quick, efficient, clean, and extremely polite, and strictly adhered to your COVID protocols. Hats off to him.
Erin Bernstetter 3.10.2021
Wonderful experience with All About Blinds. From the first phone call to schedule an in-home consultation, to our salesman, all the way to the install was perfect. Everyone was so nice and professional and work masks upon entering our home. We got plantation shutters in our entire house. (About 10 windows). The installer was great and very efficient. He showed up early (which was fine with me), and completed the installation in 1.5 hours. He was respectful and wore those cloth things over his shoes while in our home as to not make a mess. He also cleaned up after himself so I didn't have a ton of clean up after he left. And the shutters are beautiful! Great quality. Would recommend and use this company again and again. Thank you!
I needed some adjustments to my motorized blinds. Scott Hamilton came out to my house and was outstanding! Unbelievably knowledgeable and had the repairs done quickly. He was also a very nice man who clearly wanted to make sure I was completely happy. Employee of the year!!
"I am writing this letter to let you know about 2 of your employees who did a fantastic job measuring and installing the blinds in my home. Appraiser Kyle McCook was very precise and accurate measuring all my windows so that the blinds when installed would fit perfectly. His manner was very pleasant and seemed to enjoy his job. Installer Josh was able to install the blinds in half the time that I was told would be required to complete the job. He took the time to ask a question about a document he noticed on the wall which made me, the customer, very relaxed while watching him complete the task. These two workers were very professional and enjoyable to have in my home. I would certainly recommend All About Blinds to others and highly suggest they ask for these employees to do the work. I just thought you ought to know."
Scott installed our blinds many years ago. After many years he is a wonderful resource when I have a question about anything concerning remotes, etc. I do not have enough good words to say about this gentleman. He comes when he says he will, cleans up after himself, and spends as much time as is needed to make me comfortable with the system. If you are judging a company by its employees, this company is everything you could want and more.
"Thanks to Scott for the professional installation of blinds in the garage and sliding glass door covering in the master bedroom. Scott was punctual, courteous and very personable. His installation expertise was exceptional and we appreciated his attention to cleanliness and respect for our home. We look forward to doing business with your company in the future. We can say that your company will be highly recommended by us. Thanking you for everything and Merry Christmas from Frank & Nancy Gerwe."
Colleen Van Halter 12.15.2020
"Scott Hamilton was an excellent installer. Roger was informative and helpful as always, these guys are so knowledgeable, the entire experience is easy and very professional. Thank you."
"Start to finish, working with you guys has been a breeze! Tom was very friendly and helpful during the consultation. The folks from the office were always cordial on the phone and left detailed messages if I couldn't answer. And Merle finished the installation quicker than I thought possible and even took a moment to fix one of my other shutters. I'll definitely recommend you all to friends and family. Thanks and Merry Christmas!"
"The blinds are just what we wanted, made to order and installed to perfection. The price was very reasonable, as we had obtained multiple estimates. Our salesman, Drew, was very pleasant young man. He came to our home, offered sage advice on what we needed, and then measured each window precisely. Our installer, James, was the consummate professional. He worked diligently to ensure every one of our 8 blinds worked flawlessly. His attention to detail was extraordinary as every item was adjusted until it was just right. All in all it was a great experience, and we are thrilled with the results. Naturally, we offer our highest recommendation for this company."
Nina Strickland 11.16.2020
"The entire process from consultation to installation was very organized. Merle was very competent and made the installation process effortless."
"Sasa did a wonderful job installing our blinds. I would recommend him to anyone that is getting blinds installed. We are getting the rest of the house done and would like Sasa to do the install."
"Sasa was an excellent installer. He was prompt, efficient, and left no mess. Our experience with All About Blinds has been a great and we will be sure to recommend you to our family and friends. Our sales associate, Darin, actually sang for us. The shutters are great."
Sandra McQueen 10.25.2020
"This is the second house where we have used All About Blinds. Tom is an excellent salesman who makes good suggestions. Sasa installed shades and plantation shutters. I requested Sasa for the installation in the second house. He is very experienced and a pleasure to work with. Great service and a very nice looking finished product."
"An excellent company to do business with...not only do they produce an extensive line up of superior products to choose from but if you're lucky enough to have Scott Hamilton service your installation you've really hit a homerun. Scott has a keen eye for perfection and a very strong commitment to providing a high quality level of customer service and satisfaction. You'll be very glad you chose All About Blinds...WE ARE!"
"My plantation shutters are beautifully made and fit perfect! Merrell came to install them and did a fantastic job. One window needed a little it off the frame and he handled it like a pro! and the best part is that it is a local company!"
Daniel Schmidt 05.22.2020
"I recently had our blinds replaced by allaboutblinds.net and we are very satisfied. Grant did a great job, was thorough and professional and the work was exceptional. It did not take long and even with the pandemic we were able to schedule a accommodating time. Job well done, Grant. thank you"
"Scheduled to have my blinds installed today. The installer, Grant called and asked if it was ok to come early as he was running ahead of schedule. He showed up and did an awesome job, cleaned up and asked if I had any questions or needed anything else. He was professional, respectful of my time and did an excellent job installing the blinds.
The blinds and decorated valances made a significant difference in the rooms."
Lynne Jacobsen 04.03.2020
"From ordering to installing we were impressed with the service we received. Grant installed our blinds today and we couldn't be happier."
"When I ordered my blinds, there were installed in the time told to me. Grant did a great job installing them. Thank you."
Jamesina Trinrud 04.06.2020
"Scott did a fabulous job. The blinds are beautiful and very easy to operate!"
"Grant Carson was my installer for my whole house of Hunter Douglas Applause Honeycomb shades. First of all, I would like to say that l absolutely love my window treatments. Grant was very professional and did an excellent job making sure I was completely happy with the install. Grant was very thorough and meticulous with this install. Afterwards, he made sure to clean up and remove all boxes and plastic material. Kudos to All About Blinds for having a great installer. All in all, I had a great experience with the salesman, the scheduler to the installer. I am a repeat customer and will continue to sing nothing but praises about All About Blinds. Good job!"
Jackie Reinschmidt 03.19.2020
"I bought blinds for my entire house 15 years ago. A couple of the blinds weren't working properly so I took one in to have it looked at. They fixed the blind within 2-3 minutes and gave me the parts to fix the other 2 broken blinds plus a few more in case any others break in the next few years. Note, the inner twirling piece doesn't last forever if it's a window facing the hot afternoon sun and not a fault of the blinds. Great long term service! I get compliments always especially on the plantation shutters on the front windows."
"Roger came out and showed me what my options were for my front facing windows and we settled on something that would let light in from the outside, but not necessarily let people see in in the evenings. Scott came out and installed the blinds in a very timely manner. My windows were a little different because there was trim built around them but they were able to work around this. Highly recommend!"
"We love the work that Scott provided today! He was thorough yet swift. The blinda look great and there is no sign of installation mess! Thanks Scott and All About Blinds team!"
"This is my first time using All About Blinds and I must say I am quite pleased with the experience. The entire process from beginning to end was seamless and easy. Kevin did a great job working with me to come up with some motorized shades and a wall switch and my installer Grant was timely, pleasant and efficient. I love how the shades turned out and will definitely recommend All About Blinds."
"The customer service is great, from our visit to the store, the appointment to measure and order, and our installer, Sasa, was excellent. He was courteous and did a great job. We have used your business before and highly recommend your service and workmanship."
"From the very first in hme appointment until the installation was completed, this was a very pleasant experience!! Greg, our sales rep and Steve D., our installer both provided excellent service and results. Couldn't be happier and the plantation shutters are absolutely beautiful!!"
Colleen Stevens 07.29.2019
"Grant installed our solar shades today & did an excellent job! He was right on time, courteous, professional and exacting in the process of hanging the shades! We are thrilled with the outcome and quality of service! Thank you!"
"I had a great experience from sales to installation. Darin was a great sales guy, friendly and honest. Very accommodating of my questions. Grant did a great job installing the blinds 7 windows and a vertical set. He was quick and clean and friendly. Great experience. Thank you"
"Kyle was a terrific salesman and Sasha did a top-notch installation. Shutters and Blinds look beautiful and definitely add a WOW factor. The first and only stop for blinds and shutters in Jax."
"Charles was my installer and did an excellent job of making sure everything was properly fitted and left no mess behind. This firm installed shutters on 9 windows and three doors 15 years ago and they are still in perfect working condition. And the new ones matched perfectly."
Margaret Keith 01.04.2019
"Steve installed our shutters in the living area last year and our master bedroom this week. He does an excellent job! Kyle was our sales person, very professional and courteous! We have been using AAB for many years and couldn't be more pleased."
"Today, Charles installed my Hunter Douglas Skyline Gliding Window Panels covering the sliding door. They are beautiful and I am very pleased with the product and professional service. Everyone was so helpful from the beginning, showroom, measurement and installation. Charles did a wonderful job with the installation. Thank you."
"Having been married for forty years to the president of a family owned business that has been in existence for fifty-six years, I appreciate companies who employ people who are punctual, polite, well-groomed and can speak the "Queen's English" and answer my questions in a concise manner. And that pretty much sums up the experience that I had today with the young man who came out from All About Blinds to measure and give me an estimate for blinds for my son's home. In this day and age, so many people will take the time to complain when something does not meet their expectations, but never when it is for a job well done. Keep employing great people like Drew Sale and your business will stay on the trajectory that it's on!"
Paulene ShowAlter 12/19/2016
"I've used All About Blinds in several homes and I have never been disappointed with the product. Steve D was the installer of the shutters I ordered. He went above and beyond to ensure they were level, perfectly aligned, was very polite, professional and had awesome workmanship abilities to ensure they were beautifully installed. Thank you Roger for always being kind to me. God bless."
Anthony Depinto 12/2/2015
"The entire purchase and installation process was without flaw. Everyone was perfect and professional from Kristina in your Showroom to Roger who measured and was extremely thorough in his explanation of what was being ordered, Both Kristina and Roger provided excellent Customer Service. The shutters were installed today by Stephen and Melissa. They were on time and kept me informed prior to their arrival. The installation craftsmanship was Excellent and both were extremely professional and customer oriented. The room was left spotless after the installation. Overall, a Very Positive Experience and I would be Happy to recommend All About Blinds to anyone in the future. Thank You."
"Eric was wonderful! He did a great job installing my shutters and completed the work timely. He was very courteous and knowledgeable. Thanks Eric for a great job. I have had several neighbors ask about my beautiful shutters and I was more than happy to tell them about All About Blinds & Shutters and the wonderful experience I had. Thanks so much."
Showroom
Our Showroom is open 6 days a week and offers the largest collection of Window treatment displays and sampling in Jacksonville. We also offer a full line of Hunter Douglas and Graber window treatments.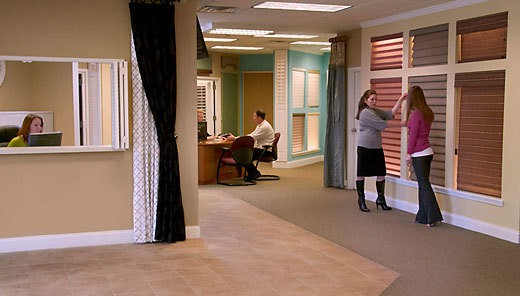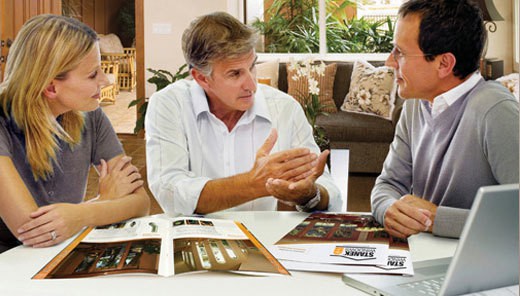 Free In-Home Estimates
All About Blinds and Shutters always offers FREE in-home estimates with no obligations. Our design consultants are experts in their field-- each has hands-on experience in all aspects of the business, including designing, building and installing all the products that we represent. Each has an average of over 20 year's experience.
Customer Satisfaction
We stand behind our products and service by offering one of the most comprehensive warranties in the business. Our service after the sale is second to none, and
CUSTOMER SATISFACTION IS OUR #1 GOAL.